Bachelor in Business Administration Programme is a three year degree course in English/Hindi medium. This course is available for only regular students. Annual Scheme of examinations is a adopted for the course and syllabus is designed by the renowned faculty of commerce & management in such a way to make the students competent in the field of commerce, management, maths, computer, preparation of reports and presentation. It develops employability skills in learners.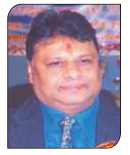 Gundecha Management Academy
Financial Assistance By
ASHOKRAJ DEVRAJ GUNDECHA
Ghanerao / Mumbai
Management study is the area of the biggest demand all over the world in the modern time/age. Management of a business house, management of non-profit organisations and even management of events, is becoming a challenging task in the emerging complex environment. In fact, management is the power which eliminates or minimises the wastages, repetitions, un-necessities, etc., and provides a systematic order to all the activities and events.
Selecting a career in the field of management has been priority of youth for a long time. Considering the same and after screening the idea, the managing committee of the college, decided to start a degree level management course, i.e., the B.B.A. in the college which is now affiliated to J.N.V. University, Jodhpur. The course is being run with financial assistance of Shri Ashok Raj Devraj Gundecha of Ghanerao/Mumbai.
After going through the formalities of successful inspections by the Commissionerate, College Education, Rajasthan, Jaipur and the M.D.S. University, Ajmer, the college started its first batch of B.B.A. with effect from academic session 2008-09. Since 2012-13 course is affiliated to JNV University, Jodhpur.
Allotted Seats – One Section
Subject to minimum 20 admissions in Ist Year.